"My diet was dictated by strict rules on food and exercise"
17/01/2020
Jessica's problems with her body image and academic pressure were a gradual process, and their beginnings are difficult to pinpoint. Here, she writes about how she was let down by health professionals from the very beginning, but how she has responded well to treatment and is now living her life with the support of her family.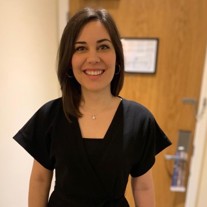 Around the time that I was coming to the end of my GCSE's, I began to worry about my future and ask a lot of questions of myself. It was around this time that I began to have a problem with my body image.
As I got older my problems persisted. I was completing a BTEC in fashion and I was putting myself under pressure to succeed. I had chosen to pursue fashion rather than study A-Levels, and I wanted to prove to everyone that I'd made the right choice.
I chased this goal endlessly, to the point where it began to affect my physical and mental health. I was stressed, I wasn't eating lunch, and I was surrounded by magazines that were full of pictures of beautiful and successful women. I was surrounded by them, but never felt like I was one of them.
My pursuit of good grades worked, for better or worse, and I secured a place at university. I was already ill, but my arrival at university only compounded them. Prior to going to university I'd been reluctant to attend. It had never been a priority for me and I had no real desire to go at that point in my life, but I felt an immense pressure to from everyone else. I'd done so well in my coursework, what else was there to do but go into higher education?
When I went, it only confirmed my belief that I didn't want to be there. I didn't get on with anyone, and I was rapidly losing weight. There was a culture of judgement on my course which meant that you had to have the best clothes, and I became insecure about what other people were saying about me. I wanted to leave, but I still felt an immense amount of pressure to stay and keep going. When I came home to visit my parents one weekend, I was overwhelmed and broke down. I'd kept everything inside for so long, but I couldn't hold it all in anymore. It was decided amongst my family and I that I would leave university, realising that there was a problem, but not immediately sure what to do about it.
I can remember watching an episode of supersize vs superskinny on TV one day when a switch was suddenly flipped. The strict rules that I'd been living by for so many years were the exact rules that were being discussed on screen. I accepted that I was ill and that I needed help.
I made visits to the doctor on a couple of occasions not long after this for unrelated issues. Each time, without my knowledge, my mum had phoned ahead to speak to the doctor and explain my situation. She was worried about me and wanted to start a process that would result in me receiving help. Throughout this entire period my parents had been nothing but supportive of me.
On my second trip to the doctor, he asked the question; do you think that you're fat? I answered that I didn't think so, but he ran a number of tests on me anyway, including working out my BMI. Unfortunately, he managed to miscalculate it, so for a short time after this nothing happened because I was wrongly labelled "healthy".
My parents remained unconvinced. I was clearly underweight, so my parents also insisted on getting a second opinion, which fortunately coincided with my current doctors' retirement and therefore a new doctor was assigned.
He established immediately that something wasn't right. He took my BMI (calculating it correctly) and demonstrated to me for the first time just how unwell I was. I can remember watching an episode of supersize vs superskinny on TV one day when a switch was suddenly flipped. The strict rules that I'd been living by for so many years were the exact rules that were being discussed on screen. I accepted that I was ill and that I needed help.
Suddenly there were lots of doctors and interviews about my experiences. The NHS provided me with a dietitian and a community care team, but the dietitian gave me advice that promoted my obsessive behaviour, and the community team provided almost no support.
The help that I was getting from the NHS was ineffective, so my parents tried to get me private care. I had a long conversation with the doctor, and it was agreed that I needed care. I was offered nine appointments with a psychologist and felt relieved that things were finally starting to move forwards.
This relief came to an abrupt halt when I got to my first appointment. During my initial phone call, I should have been asked what my BMI was, but this didn't happen. So, when it came to my first appointment, he took my BMI and promptly told me that he wasn't able to help me; my BMI was too low. When your BMI falls to a certain level, it requires specialist care to be effective.
I was getting desperate. I tried contacting a local eating disorder service (Evolve) to see if I could access their services. They had the space but couldn't treat me because I wasn't "local enough". I was from the next town over, which put me outside of their catchment area. I was crushed. At every turn I was being knocked back by professionals who were supposed to be helping me.
Although they couldn't help me directly, Evolve did suggest I be referred to hospital, but that it was a minimum eight week wait. I was on the brink of breaking down.
The next day I finally got a stroke of luck. They'd found a bed for me at Rharian Fields, a specialist eating disorder unit, and I was admitted a week later. This was a real turning point for me. It was absolutely the hardest thing I'd ever done, but it was also life changing. I knew why I was there and I was determined to make it work.
My doctors were quick to let me know how much damage I'd done to myself. The sad thing was that there weren't any revelations that shocked me. My body weight and blood pressure were dangerously low. My diet was dictated by strict rules on food and exercise that I'd followed religiously. I was immediately placed in a wheelchair, and I wasn't allowed to travel anywhere without it during my first month.
My determination to make it work paid off though, and the treatment was a success. I was phased back into community life on the premise that I would receive psychological help. Again, my community team failed me, and I had to find the help on my own. The charity SEED allowed me access to their psychological care.
Once a week for a year I saw my psychologist. Slowly but surely, I began to get better. I went from the brink of a breakdown, to feeling ready to go back to university, feeling healthier than I had in a long time.
My family have been my one consistent support throughout all of this. They have tirelessly sought to find me help until they finally got me the care that I needed.

If you would like more information about eating disorders, please visit our advice and information pages.