Gender Pay Gap Data for Rethink Mental Illness as at April 2019
As Rethink Mental Illness employs more than 250 employees it is required by Government Regulations to publish details of its gender pay gap, specifically the difference in average female earnings compared to average male earnings. The data for Rethink Mental Illness is as follows:
Mean gender pay gap = 9.5%
Median gender pay gap = 10.9%
Mean bonus gender pay gap = not applicable (as bonus is not paid)
Median bonus gender pay gap = not applicable (as bonus is not paid)
Percentage who receive a bonus = not applicable (as bonus is not paid)
Proportion of females and males in each quartile bracket:
Lower quartile = 77.6% female and 22.4% male
Lower middle quartile = 74.1% female and 25.9% male
Upper middle quartile = 66.5% female and 33.5% male
Upper quartile = 71.5% female and 28.5% male

The data for Rethink Mental Illness shows that our mean gender pay gap for 2019 has increased slightly from 8.5% in 2018 to 9.5% in 2019 and the median gender pay gap has also increased from 4% in 2018 to 10.9% in 2019.
The Charity does not discriminate on grounds of gender and complies in full with the Equality Act 2010. The gender pay gap should not be confused with unequal pay, which deals with the pay differences between men and women who are doing the same job or work of equal value. We are fully committed to the principle of gender pay equality. To help us do this the Charity use a job evaluation system to assess the relative value of each role across the organisation. Jobs are then placed within our pre-set pay scales. This ensures all of our people are paid the same for comparable roles regardless of gender.
The current gender pay gap at Rethink Mental Illness is driven by the higher proportion of females who are employed in the lower and lower middle quartile salary bands (predominantly those employed as support workers). In fact, in 2019 the percentage of females we recruited into these roles increased by around 8% overall which has contributed to the increased gender pay gap. However, it is pleasing to report that in 2019 female representation in the upper quartile salary bands also increased by 4.5% evidencing the progression of women within Senior roles.
Tackling the gap
The underlying causes affecting our gender pay gap are shared by the wider charity and care sector, where females take up a larger proportion of the workforce in the lower quartile salary bands. Hence, it is important for us to create long term solutions to reduce the gender pay gap significantly. These solutions, which are well underway, include;
Developing recruitment campaigns which encourage applications from a diverse range of backgrounds and will improve our ability to attract more males into entry level roles
Greater use of the Apprenticeship Levy to broaden opportunities for a more diverse range applicants who may have no experience within the sector
A Management Development programme, accessible to new, existing and up and coming Managers from all areas of the organisation; which will support progression into higher level roles.
Recruitment and Selection training for all line managers with a suite of assessment tools which ensure fairness throughout the recruitment process and across all candidates
The Charity is also committed to the continued improvement of workplace flexibility for men and women by;
Encouraging men to work flexibly. So that it isn't seen as only a female benefit.
Offering all jobs as having flexible working options, such as part time work or remote working etc.
Encouraging and promoting the uptake of Shared Parental Leave

We value people from all backgrounds and recognise the importance of diversity and inclusion within our workforce to deliver greater outcomes for our service users and beneficiaries. However, we acknowledge that some groups are still under-represented in our workforce and we are committed to ensuring that our employees reflect the make-up of the communities we work in.
The Charity will be open and transparent with our staff regarding our gender pay gap and we will encourage them to contribute ideas for ensuring the gender pay gap is reduced or eliminated in the future.
We confirm that the information contained in this report is accurate.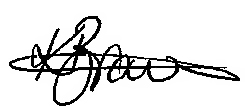 Kelly Brown
Director of Corporate Resources, Rethink Mental Illness