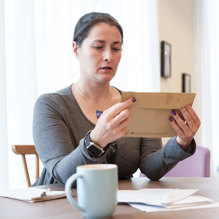 Cost-of-living survey – Autumn 2022
We know that for many people, there's a strong link between their mental health and money, and this will only become even more true during the current cost-of-living crisis. This might be because money problems have made their mental health worse, or because their mental illness has affected their ability to manage their money.
For some people living with mental illness, money problems are sadly nothing new. On the other hand, some people living with mental illness may be experiencing money problems for the first time. Either way, we want to make sure our work is informed by your experiences. That's why we've launched a new survey on financial issues and the cost-of-living – so you can tell us your priorities.
If you did our survey last year, some of the questions may look familiar. We've asked some of the same questions again so that we can compare the results with the answers from last year. Other questions are new as we want to learn more about your experiences of emerging issues.
What you need to know before taking this survey
It is open for anyone with lived experience of severe mental illness, but carers can also respond on behalf of the person they care for. The majority of questions are not mandatory, but any question marked with an asterisk must be answered.
Trigger warning: this survey asks questions about the mental health impacts of money worries, including a question about self-harm and suicide, which may be distressing for some people.
If you need to talk to someone you can call the Samaritans at any time, day or night on 116 123. If you are in crisis, you can contact your local crisis mental health team or GP, or dial 999 in an emergency. If you need advice and support on practical issues, please email our advice team at advice@rethink.org. If you need advice about money, please visit https://www.mentalhealthandmoneyadvice.org/


The survey should take around 10 minutes to complete, and you have until the beginning of December to do it.