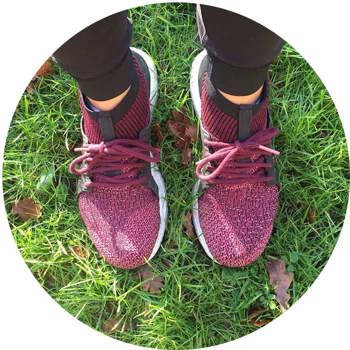 It's about the small steps
If you live with a mental illness such as depression or anxiety, it can often feel like a huge hurdle to take in regular exercise, especially if you have not been active for a while. Getting just 30 minutes exercise a day, five days a week can help you feel fitter, lower your cholesterol levels and give your well-being a much-needed boost. We asked our supporters for their tips:
Get off the bus a few stops early
Give yourself a little extra boost in the morning but getting of the bus a few stops early. Start with one stop and each week make that walk a little longer. Even 30 minutes of walking a day can have a benefit to your health and well-being.
Take the stairs
If you live somewhere that has an elevator, why not take the stairs instead? The elevator might go up – but it doesn't make your heart rate climb.  And if you don't have stairs, why not buy a step platform instead and add ten minutes to your routine. You'll soon be working up a sweat and feeling the benefits in no time!
Take a dip
Check out your local pool. Or if you're feeling brave, an outdoor pond or lido! Even in the winter many swimming clubs keep going all year round.
"the peacefulness of watching the water break in front of me when I am swimming has an almost meditative effect" - Louise, supporter
Stand up more

Did you know that sitting down puts your body in neutral mode? Sitting can constrict circulation and slows down your metabolism. Why not swap that kitchen stool for standing up when doing the dishes or if you are travelling, why not give up your seat and stand for most the way? While standing doesn't get your heartbeat racing it can help keep your body more alert. 
Grab a bike and take a spin
Cycling makes a great low-impact way of getting exercise into your routine and just 30 minutes a day can reap some great rewards. If you don't have a bike of your own, check to see if you have a second-hand bike shop nearby or join one of the many dockless bike hire schemes near you. If you are worried about cycling on the road why not get an exercise bike instead!
Get green-fingered
Gardening can be a great way to get some gentle exercise, and you will also reap the benefits of watching things grow. If you don't have a garden where you live, look for community garden schemes at local parks or allotments.
"I started doing a little bit of gardening to get outside and get me moving a little. It helped on a number of levels. No matter what the task was - I could usually see the fruits of my work. Just mowing the lawn or cutting dead flowers off a plant. It was light exercise and made me feel I'd accomplished something - no matter how small."  - Jeremy, supporter
Parkrun with friends
If the thought of running fills you with dread then why not join your local park-run club instead. You don't have to be super fit to take part. The parkrun community is super friendly and supportive but best of all, it doesn't cost a penny! If running isn't your thing, you can jog or walk the route if you prefer!
Log your activity
There are a huge number of free apps for your mobile that can count steps and keep a record of fitness. Why not share your success with your friends on social media platforms like Strava and Map My Run.  Those few minutes a day will soon add up and best of all, you can encourage your friends and family and set challenges together.  
If you prefer, keep a record on paper and keep this somewhere it will motivate you! Even a few minutes a day add up and each week you can increase your goals. 
Start small, think big
If you find fitting 30 minutes into your day difficult, why not break it down into three blocks of ten minutes. You could take a football to your local park, set up a swingball in your garden or invite a friend round to do squats, sit ups or star jumps! No matter how you spend those ten minutes, make sure you are having fun and enjoying the moment! 

You can get more inspiration for ten minute workouts, check out the NHS 10 minute workout site.

Have you recently started adding exercise to your routine? Why not let us know what you are doing? Find us on Facebook and Twitter.