Embracing Ramadan: how employers and staff can support their colleagues
26/04/2022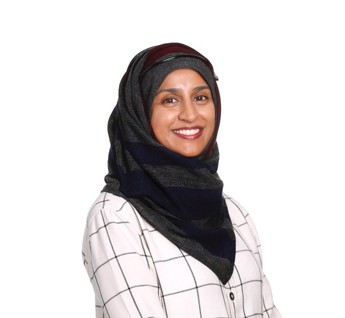 Rethink Mental Illness is very proud of the diversity within our organisation – not only within our staff but within the communities that we support. In this blog Kaneez, our head of community engagement, looks at the importance of Ramadan to her and how we can also support people observing this period in our groups and services.
Hello all – my name is Kaneez; I'm a Muslim and I joined Rethink Mental Illness last April, as Head of Community Engagement to support the innovative work of our Community Mental Health Unit and the Community Peer Groups Development team.
We're working with diverse communities all over the country and it was suggested I should write a blog to share a bit about Ramadan and how it links to our wider mental health transformation work… so the scribbles turned into this blog, which I hope you will enjoy!
"Bismillah hir Rahman nir Rahim" - In the name of God, the Most Kind, the Most Caring
It's Ramadan, the 9th month of the Islamic calendar – and this year it falls in April 2022.  During this month, Muslims all over the world (about 2.5 billion of us) start fasting.  The fasting season concludes in early May, with a colourful celebration called Eid, a food-filled-family-feast…similar to Christmas day!
What is fasting?
No food and drink is allowed to be consumed from dawn to dusk, every day, throughout Ramadan. It means we get up very early in the morning, at around 4am, for breakfast and then we don't eat again, until around 8pm. Timings vary slightly according to the local sunrise and sunset times. Fasting is for everyone who is healthy and fit.  Some Muslims cannot fast due to medical reasons.  Ramadan trains us in self-discipline.  It also encourages us to reach out to others, our families and our local neighbourhood – even more important now, given people's loneliness and isolation. In Ramadan we increase our efforts to participate in feeding the poor and give compulsory 'zakat' which is a 2.5% financial donation from our savings to the homeless, orphans and others facing hardships.
What happens to the body physically?
Not eating and drinking for 15 hours, in this controlled monthly diet, has some benefits. It gives the body a chance to reset; frees you of physical habits and slows down the body, helping it to digest the good quality nutrients we carefully select to intake - the shops are full of 'dates' at the moment, a particularly favoured fruit in Ramdan – due to its health benefits and spiritual significance.
What's happening mentally? 
Fasting is not just physical refraining from food and drink - that's just half the story. It involves fasting of all the senses; of the eyes (see no bad), of the hearing (hear no evil), of the mind (clear thoughts) - but most importantly, it's the chance to improve our character and an attempt to reach higher spiritual states. It represents a mind-shift change. During fasting the devil inside us is said be to locked up and chained away; giving us humans a competitive advantage to win the spiritual battle – to attain a stronger, balanced, happier, purified and more grateful mindset. Spiritually, we consider the 30 days broken down into 3 parts:
First 10 days is seen as God's kindness, enabling us to reflect and improve our character.
Next 10 days we enter into forgiveness, a chance to gain the intersession of the holy Prophet Muhammed (peace and blessings be upon Him and his family)
And the final 10 days is an opportunity to obtain freedom from the hell fire…...another good motivator to fast!
Fasting is both a physical and spiritual battle of the mind, body and soul. By tuning our mind to focus on God, we gain a miraculous and powerful mental ability to leave behind physical, emotional and worldly wants and fears. This strong spiritual drive (faith) makes the physical task of fasting much easier to accomplish. 
What can employers and colleagues do to support?
Muslim colleagues will be up at night to eat, which means they might be slightly tired than usual. No food or drink is physically demanding on the body, so they may appear more quieter or with lower levels of energy than usual.  Here's a few things that can help: 
Some employers allow Muslims to change their working hours so they can start a little later, or perhaps leave a little earlier, or have generous breaks built in during the day.


What time we are holding important meetings.  If possible, avoid having these too early or towards the end of day.


Being mindful of involving food and drink. If possible, avoid holding meetings in eating places and if food is a necessary part of an event, make provisions for Muslims to have a space where yummy food is not the main attraction!


Joining in the celebrations. You can wish Muslims a happy Ramadan with the saying 'Ramadan Mubarak' and on the day of Eid 'Eid Mubarak'.

A few thoughts on Muslim poverty, mental health and faith institutions:
The Muslim community is deeply generous in donating towards causes and helping others and yet, it was stark to read the articles that appeared in national media at the start of this Ramadan, suggesting that 50% of Muslim households are living in poverty this Ramadan, compared to 18% of general UK population. The mosques around the UK are doing their part as usual this Ramadan, by opening their doors, welcoming families and distributing free food to their communities. 
Mosque buildings and Imams also act as safe sanctuaries for people who feel they have no other place to safely turn to for help or friendship. They play a vital role in supporting a wide range of mental health issues affecting Muslim families. The word mental health doesn't always translate well into some languages and cultures, it can be a stigmatised topic, making it increasingly difficult for Muslim families to open up and receive the medical treatment they need.
Our churches, synagogues and other places of worship also play a vital community role.  The current NHS opportunity of 'integrated care systems' provides a unique opportunity to integrate our places of worship far better into our wider UK healthcare system and you can read more about that what we are doing at Rethink Mental Illness about that here:
https://www.rethink.org/aboutus/what-we-do/community-mental-health-unit/
This blog was written to celebrate and understand some of our differences and because we're better when we unite on the common issues we face.