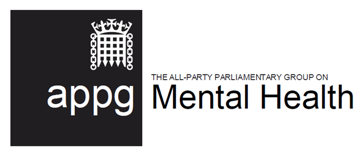 APPG on mental health

What is the APPG on Mental Health?
The All Party Parliamentary Group (APPG) on Mental Health is a group of MPs and Peers from all political parties who are interested in mental health. The APPG scrutinises the government's approach to mental health, discusses new policy solutions, and facilitates debate on key issues.
Rethink Mental Illness and the Royal College of Psychiatrists provide the secretariat for the APPG. Together, we help to shape the group's agenda and organise events with government ministers, NHS organisations, health professionals, research bodies and people with experience of mental illness. 
For further information on the APPG, please contact Peter.Hand@rcpsych.ac.uk.
What is the APPG currently working on?
The APPG focuses on many issues important to improving mental health services. Recently we have conducted meetings into the reforms to the Mental Health Act, which will cover the reception, care and treatment of mentally unwell people.
Over the course of 2021 we will host a series of other meetings. Some examples include looking at what the government's approach to mental health should be post-pandemic, mental health social care services, and on the benefits of social prescribing for mental illness and mental well-being.
Who is on the APPG on Mental Health?
The APPG is made up of elected officers from different political parties. The following were elected at the last APPG annual general meeting in April 2021.
Position

Name

Party

Co-Chair

Co-Chair

Vice-Chair

Vice-Chair

Vice-Chair

Vice-Chair

Vice-Chair  

Vice-Chair

Jeff Smith MP

Dean Russell MP

Wera Hobhouse

Baroness Hollins

Baroness Tyler

Colleen Fletcher

Rachel Maskell

Baroness Watkins

Labour

Conservative

Liberal Democrat

Crossbench

Liberal Democrat

Labour

Labour

Crossbench
If you have any questions relating to the work of the APPG, please contact Sygy Collins, Rethink Mental Illness's Senior Policy Officer via Sygy.Collins@rethink.org.