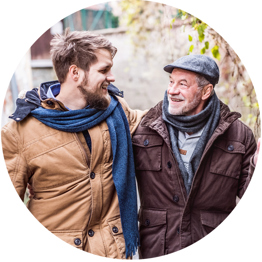 Christmas Appeal: Jim's Letter
When I was first asked by Rethink Mental Illness to write a letter to its supporters, I'll be honest I was a little hesitant, it's not really the sort of thing I do or have time for but because of the wonderful support I've received from the Oxfordshire carers support service, I felt like I had to send you this letter.
You see this, this April, before I spoke to the service, I was really a frustrated dad. My clever beautiful son Dan had been diagnosed with a borderline personality disorder and I was really struggling to understand his condition and work alongside him to give him the help that he needed.
The support I was offered to change the stressful situation was literally non-existent, all I saw before me was a big black hole of support. Like many carers I guessed all I could do was hit Google with my burning questions; 'What is borderline personality disorder?', 'What are the warning signs of a crisis?', 'How do I support someone with a mental health problem?'.
The answers I got back were helpful to a degree but what I really needed was some expert support and advice someone I could talk to who fully understood what I was going through and what Dan was going through.
Thankfully (and I will always be thankful), a friend of mine mentioned the Oxfordshire Carers Support Service to me. After hanging onto the number for a few days, I gave them a call and straightaway my life started to change for the better.
The person who answered the call was a lovely woman called Debbie. What she offered in that hour was literally a revelation to me, She helped me understand Dan's condition much better and she just listed to my worries and stresses, which meant a great deal, She told me about the typical drivers of a crisis and how best to manage one.
Being able to benefit from the incredible level and breadth of support for free has been a real eye-opener for me. It has made me realise not only how special Rethink Mental Illness is but also how fantastic the people are who make their services possible. So thank you so much for supporting this wonderful charity.
"After that first call, I felt in a much better place. And I guess excited to put what I'd learned into practice. Something I did a few days later when I drove Dan to the train station as he was off to visit some friends. When we parked up, I told him about speaking to the service and we started to chat."
Two hours later I'd just had the best conversation with my son for I don't know how long. Equipped and Informed. I now understood Dan so much better and started to give him some of the help I was so desperate to offer him. And in reverse, he began to find it easier to relate to me and where I was coming from because he knew I now had a better understanding of him and his feelings.
So if you are wondering now, "Why should I give a gift to Rethink Mental Illness this Christmas?" Please do think about me and Dan, and all the other people severely affected by mental illness who may be desperate for support especially during the festive period when things can be a whole lot tougher.
Because without someone like Debbie being there to take my call and provide me with exactly what I needed, I am not sure where I would be right now, or what my relationship with Dan would be like.
Thank you for taking the time to read my letter, have a safe and happy Christmas.
Jim Ashby.