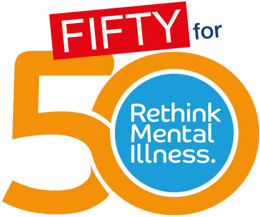 Take on a 50 for 50 challenge
Over the past 50 years a lot has changed for those of us severely affected by mental illness, but there's still vital work to do. 
To mark our 50th anniversary, we're encouraging our amazing fundraisers to take on a 50-themed challenge to help shape our future.
Whether you run 50 miles for a month, write 50 poems in a weekend, or host a quiz for 50 mates, we want you to get creative.
Below is a starter for 50 to whet your appetite. Pick one, tweak one, think of your own! Once you've decided on your challenge, sign up and kick off your fundraising.
50 for 50 Challenge Ideas
Alternatively:
£50 could help to fund our vital advice and information telephone service, which is open from 9.30am to 4pm, Monday to Friday.
£5 a month/ £50+ a year could help someone be part of a peer support group.
The details
Date: Anytime this year
Location: Anywhere
Cost: No registration fee
Target: Raise what you can, but we recommend a minimum of £150
Who are Rethink Mental Illness?
We are on a mission to bring about meaningful change, through our services, groups and groundbreaking campaigns. We know, from our vast experience, that people severely affected by mental illness can have a good quality of life. With your support, we will make that possible.
How will your money support us?
Every penny you raise for us will help empower those severely affected by mental illness. Through our network of support groups, services and helplines, last year we reached: 

You can find out more about our work by visiting our vision and impact page. 
How we'll support you
Free Rethink Mental Illness t-shirt and a 50th anniversary badge when you complete your challenge

Tips and advice on your fundraising
Sign up now
Join the celebration and sign up to raise funds for people severely affected by mental illness by taking on the 50 for 50 Challenge