Conservative leadership elections
Take action now
The Conservative Party's leadership contest is in full swing - we have written to all of the candidates asking them to prioritise mental health. Now we need them to respond. 
We asked each candidate to give the political support and funding needed to deliver the NHS Long Term Plan. Waiting times for people severely affected by mental illness need to be reduced if people are to feel at home in their communities. We welcomed the Conservative Party choosing mental health as the area to benefit from an additional £2.3bn in the NHS Long Term Plan. But now we have to keep up momentum so this funding reaches the people who most need it. 
We also asked each candidate to commit to reforming the Mental Health Act as the 20,000 people subject to the Act at any one time continue to have their rights undermined. We need your help to make sure that candidates realise how many people are expecting them to make a commitment.


Share our Tweet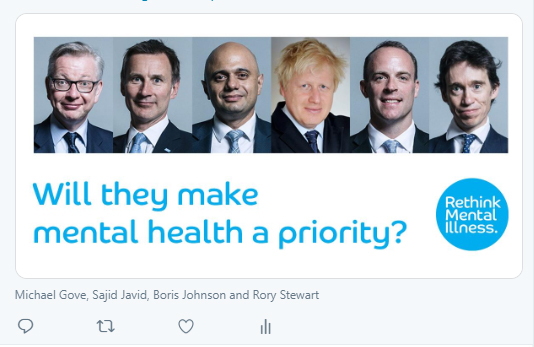 Click the image above to retweet and tell your next Prime Minister to make mental health a priority.
If you are working in one of the leadership candidates' teams and would like to get in touch with Rethink Mental Illness, please contact Louise Forsyth, our Public Affairs and Stakeholder Manager louise.forsyth@rethink.org.