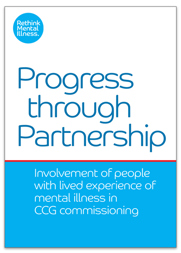 Progress through partnerships
Involvement of people with lived experience of mental illness in the design and implementation of mental health services. 
Co-production – the active involvement of people with lived experience of mental illness in service design – has been shown to empower service users, increase the quality and efficiency of services and improve clinical outcomes. 
Despite a growing consensus that people with lived experience have a valuable contribution to the commissioning process, the involvement of people with lived experience has been minimal in NHS mental health commissioning.
Rethink Mental Illness wholeheartedly supports this direction of travel and is encouraged by the strength of commitment at a national level to coproduction. However, co-produced approaches are new to many CCGs and little is known about the extent to which experts-by-experience are currently involved in mental health commissioning.
Recommendation 1:

 

 NHS England and NHS Improvement should demonstrate leadership by embedding co-production in all national policy work and supporting local areas to embed coproduction via regional teams.


Recommendation 2: NHS England should establish mechanisms to hold CCGs to account and encourage CCGs to develop co-produced approaches and measure progress.


Recommendation 3: CCGs should use the Rethink Mental Illness Commissioners Co-production Grid, as well as NSUN's 4PIs, to consider their existing involvement approaches and the steps they could take to develop more meaningful and embedded co-production with experts-by-experience.
Let us help
We are leading provider of mental health services in England. We have the experience and record of success that makes commissioning us straightforward.
Learn more

Learn more