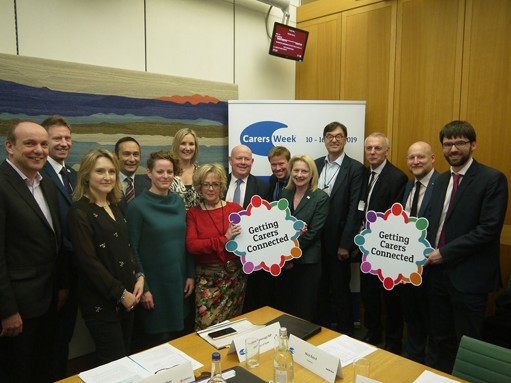 Carers Week 10-16 June
As a charity formed by carers nearly 50 years ago, we're proud to be an official supporter of Carers Week this year.


"As a charity that was created by carers like myself, to improve the lives of people severely affected by mental illness, we're proud to be part of Carer's Week. It's important to us that we're there to help anyone that's feeling the strain, and carers, family, and friends all give so much of their time in the support of others that it often comes at the cost of their own mental and physical wellbeing. This week gives us all the chance to recognise the great work that carers do."
- Philippa Lowe, carer and Chair of Rethink Mental Illness
Our Carers Week events
Monday 10 – Friday 15 June
Meet and greet event. Nottingham. 
The 'Nottingham Rethink Group – Supporting Better Mental Health' is holding a table at Sainsbury's in Arnold, Nottinghamshire. Rethink Mental Illness staff will be available to chat to through most of the week.  
Sainsbury's, Sir John Robinson Way, Arnold, Daybrook, Nottingham, NG5 6BN.
Monday 10 June :
Carers Celebration event.  11.30 am, Bethnal Green
This is a closed event. 
Tuesday 11 June:
Workshop for carers. 2pm - 5.30pm, Bristol.
A workshop for families and friends of people with mental illness. Afternoon tea is included.
The Horsefair Room, John Wesley's Chapel, 36 The Horsefair, Bristol, BS1 3JE

Booking essential, places limited. Book online here or call Rethink Carers Service on 0117 9031803
Rethink Mental Illness stall. 12pm- 3pm. Chesterfield. 
'Take a Break' event for BAME carers. 
Committee Rooms 1 & 2, Chesterfield Town Hall, Rose Hill, Chesterfield, S40 1LP.
Event is by pre-booking only (booking via Links CVS website)
Wednesday 12 June:
Doncaster Carers Group,  garden party. 12:30-3:00pm. 
Grounds of Doncaster Crisis House, 1 Imperial Crescent, Townmoor, DN2 5BU 
Open to all.
Hull carers meet and greet. 10:30am - 3:30pm
Prospect Shopping Centre, Hull. HU2 8PP
Open to all. 
Laughter and music workshop. 11.30am, London.
St Peter Centre, Marian Place, 80 Pritchard Rd, Cambridge Heath London E2 9AP.
This is a closed event. 
Rethink Mental Illness stall. 10am - 4pm. Lincolnshire.
'Let's Talk Mental Health'
The Carre Arms Hotel, Mareham Lane, Sleaford, Lincolnshire, NG34 7JP
Event is by pre-booking only ( zoe.miles@carersfirst.org.uk)
Thursday 13 June: 
Mental Health Services in the local community. 11-4pm, Dorchester.
Brewery Square are working in partnership with Rethink Mental Illness and Dorset Council to bring together a hub for the local community to learn more about local mental health support providers. The event is open to the whole community so if you are interested in what's available locally, come and find out.
Friday 14 June:
Carers Week Coffee Morning. 10am - 12pm, Oxford. 
Join us for coffee during Carers Week to recognise and celebrate the contribution carers make to families and communities. If you're looking after someone, come along to find out more about the support you can get as a carer.
Community Involvement Hub (Opposite Reception), Warneford Hospital, Oxford
For further details please contact: icareyoucare@oxfordhealth.nhs.uk
Rethink Mental Illness stall. 10:30am - 2:30pm, Leicester. 
'Relaxation Day' hosted by The Carers Centre in Leicester
The Phoenix Arts Centre, 4 Midland Street, Leicester, LE 1 1TG.
Event is by pre-booking only (nadine@thecarerscentre.org.uk)